Pecos
National Historical Park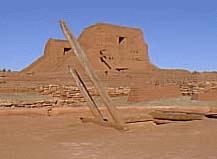 Pecos preserves 10,000 years of history including the ancient pueblo of Pecos, two Spanish Colonial Missions, Santa Fe Trail sites and the site of the Civil War Battle of Glorieta Pass. The park was expanded in 1990 to 6,600 acres. Since park expansion is new, some areas are not yet open to visitors. Authorized June 28, 1965.
VISITATION:


Highest in August; lowest in January. Averages about 45,000 to 50,000 per year.

LOCATION:


Two miles south of Pecos, NM, on State Route 63.

ADDRESS:


P. O. Box 418
Pecos, NM 87552


TELEPHONE:


Visitor Center: (505) 757-6032
Administrative Offices: (505) 757-6414

OPERATING HOURS, SEASONS:


Open daily except Christmas Day. Memorial Day to Labor Day, 8:00 a.m. to 5:00 p.m. Labor Day to Memorial Day, 8:00 a.m. to 5:00 p.m.

CLIMATE, RECOMMENDED CLOTHING:


High elevation (7,000 feet) means cold winters, mild summers. Sunny most of the time. Visitors should expect snow on the ground in winter, wind in spring.

DIRECTIONS:


Twenty-five miles southeast of Santa Fe, NM off of Interstate 25. Visitors travelling north on I-25, take exit 299 to Pecos village and south two miles. Those travelling south take exit 307, five miles north to the park.

TRANSPORTATION:


No public transportation to the park.

FEES, COSTS, RATES:


$2.00 per person, $4.00 per car.

FACILITIES AND OPPORTUNITIES:


Visitor Center/Exhibits:
The visitor center contains exhibits (text in English and Spanish), book sales and 10-minute introductory film available in English, Spanish and captioned versions. One and a quarter mile self-guided trail through Pecos pueblo and mission ruins. Guided tours available to groups with advance reservations. Summer programs include weekend cultural demonstration program and night tours. Special event: traditional Feast Day Mass is the first Sunday in August. Picnic area near mission ruins.

Lodging and camping facilities:


No camping or lodging in the park. Six forest service campgrounds and three private campgrounds available within a 20 mile radius of the park. One motel in Pecos. Full services available in Las Vegas & Santa Fe.

Food/supplies:


Local restaurants and grocery store in Pecos. Pecos River Station east of the park also has a full service convenience store on the premises. More available in Las Vegas and Santa Fe.

Accessibility:


Eighty percent of the ruins trail is accessible to persons in wheelchairs.

RESERVATIONS/PERMITS:


Reservations for school groups and tour groups should be made two weeks before visit. Filming permits arranged as needed, one week notice preferred.

BASIC VISIT RECOMMENDATIONS:


The average stay is one to two hours.

ADJACENT VISITOR ATTRACTIONS:


Pecos wilderness and Santa Fe National Forest is 10 - 20 miles north of the park. Santa Fe is a world renowned historic and cultural center.

PECOS NATIONAL PARK HISTORY


From the book "Ancient Ruins of the Southwest" by David Grant Noble you can read a brief history of the Pecos Pueblo.
______________________________

This page posted and maintained by the Pecos River Station at no charge to the Pecos National Historic Park or the National Park Service.
For other sites of interest in this area, check out ElValle.com.

Since May 15,2000